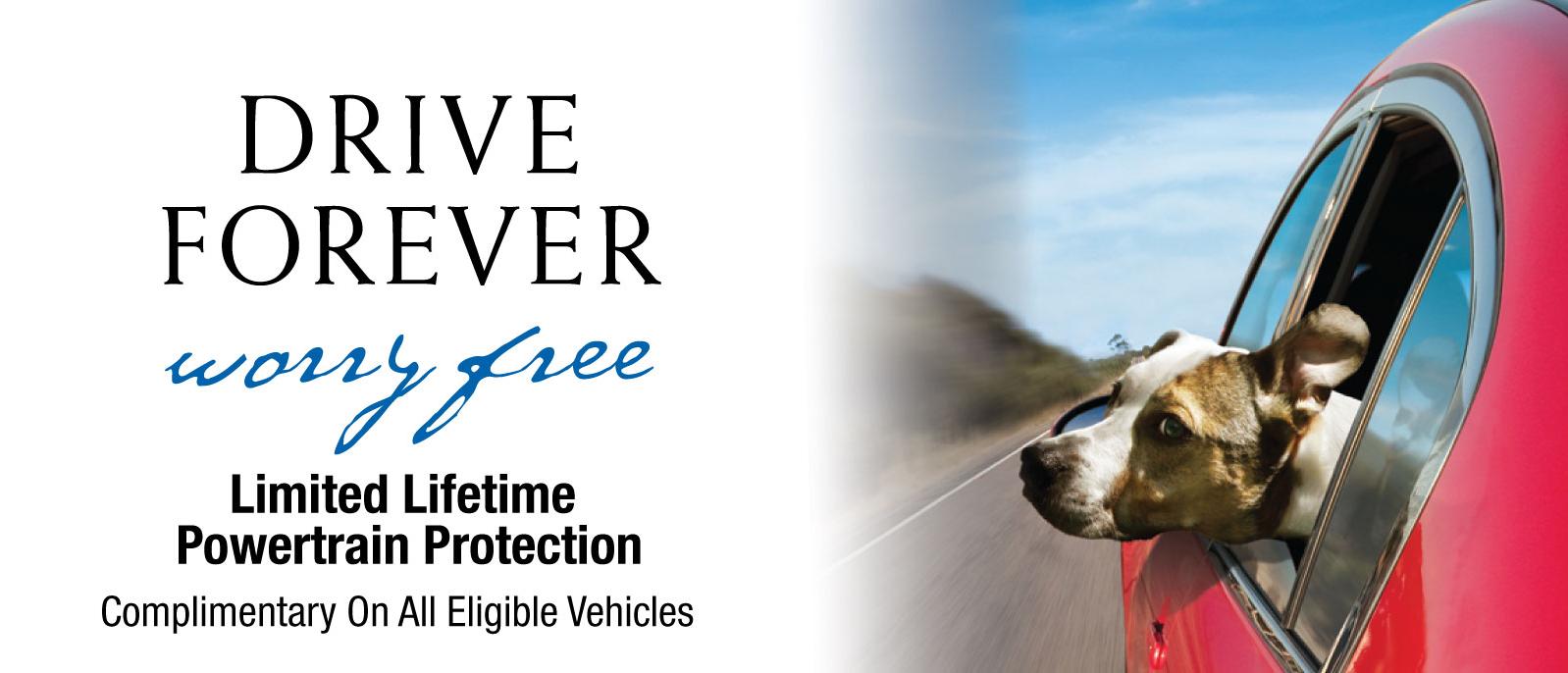 Drive Forever covers the engine and transmission on each of our eligible thoroughly-inspected vehicles forever.
Available on all eligible vehicles
Coverage begins immediately and runs as long as you own the vehicle
Additional protection available specifically designed to "wrap around" this exclusive coverage
Covers all internally lubricated parts within the engine and transmission (excludes seals and gaskets).
Engine:

Cylinder block and cylinder head and all internally lubricated parts, turbocharger, supercharger, harmonic balancer, timing gear, chain and belt, timing cover, intake and exhaust manifolds, valve covers, oil pan, and engine mounts.
Transmission:

Transmission case and all internally lubricated parts, torque converter, flywheel / flex plate, vacuum modulator and transmission mounts. See contract for details.
PREMIUM WRAP COVERAGE
As extraordinary as Drive Forever Worry Free is, "wrap" coverage can be added to enhance the Drive Forever program. Wrap coverage is the most comprehensive plan for your vehicle and covers most parts within the following systems:
Drive Axles
Air Conditioning and Heating
Suspension
Cooling System
Fuel System
Electrical System
Electrical Power Systems
Seals and Gaskets
Wrap Coverage
includes all assemblies and parts on your vehicle with the exception of the following list of WHAT IS NOT COVERED:
EXCLUDES - Exhaust system, catalytic converter, clutch assembly, shock absorbers, alignments, wheel balances, tires, fan belts, filters, nonmetallic hoses, brake rotors and drums, brake pads and shoes, lenses, sealed beams, light bulbs, battery, battery cables, spark plug wires, distributor cap and rotor, paint, carpet, bright metal, trim, sheet metal, bumpers, body panels, glass, physical damage, moldings, upholstery, weather strips, canvas top, vinyl top, fabric top, fiberglass top, air and water leaks, wind noise, squeaks and rattles, coolants and lubricants, refrigerants, tune-ups, and maintenance services.
ADDITIONAL BENEFITS
ROADSIDE ASSISTANCE - Benefits including Towing, Flat Tire Changes, Jump Starts, Fluid Delivery, Lockout Service, and Concierge Service. Your Drive Forever Wrap Coverage will cover up to $100 per occurrence (less the cost of parts or fluids required).
TRIP INTERRUPTION - You also have the added benefit of expense coverage for overnight stays and meals incurred if you are stranded due to the failure of a covered breakdown and you are more than 100 miles from your home. Your Drive Forever Wrap Coverage provides up to $75 per day (maximum of 3 days) for trip interruption.
ALTERNATE TRANSPORTATION - Your Drive Forever Wrap Coverage provides up to $35 per day (up to a maximum of $175) for alternate transportation if your vehicle is in a repair facility undergoing repairs for a covered breakdown.
UNLIMITED NUMBER OF CLAIMS - The number of claims on your vehicle is unlimited. See your contract for details on payable claims.
NATIONWIDE COVERAGE - Your Drive Forever Wrap Coverage is honored in both the United States and Canada. If you happen to be traveling, you can have peace of mind that repairs of a covered component will be taken care of for you. Just call our toll free number for prior approval.